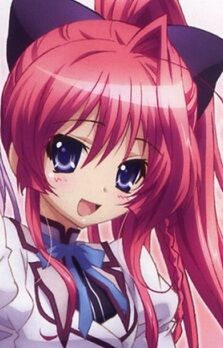 Sana Inui (乾 紗凪 Inui Sana) is a second-year student of Yuihime Girls' Academy and the childhood friend of Airi Sena. She is the current president of the Nuko Club.
Although a supporting character in the PC game version, she is a main character in the PSP game version, as the result of taking first place in a favorite character poll of the game.
She likes Miu Amaha very much and she is in the Nuko Club because of her. Although she does not like boys, she makes an effort to makes the male students from Kagamidai Academy feel welcome, but she later reverts to her true self. She dislikes Shingo Uryū especially and often calls him "kuzu-mushi" (クズムシ, lit. "trash worm").
This is exacerbated when she notes the growing closeness between Shingo and Miu. In the anime, Sana develops feelings for Shingo herself, but she is heartbroken when Shingo and Miu start dating since she realizes that if she had been nicer to him, he might have chosen her. She hides a bit of jealousy over Shingo and Miu relationship, saying that he is is not good enough for her.
Though later in the anime, she admitted that he might be the right kind of guy for Miu. she also says that if Miu broke up with him, she would become his girlfriend. When they received to similar young stray cats, they decided to name them, in the end the names ended up being Miu and Shingo. After this she becomes jealous because they did not like her name while they loved the other people names. Later, she takes the cats named Shingo because she is jealous of them, while it did prove useful to her to have somebody to talk to. After she was consolidated by Airi, she realized that what she had done was wrong as she returned the cat Shingo with the cat Miu.
Sana is voiced by Misono Moriya (PC) and Mayumi Yoshida (Drama CD/PSP/anime).
Trivia
She tends to hide her jealousy of Shingo and Miu. They slowly began to comprehend her nature.
While in the beginning, she didn't appreciate him, she often referred to him as a type of bug. She slowly opened up to him and called him Shingo.
Even thought she was against his arrival, she acknowledged him
Gallery